Personal blog
This will be a very respectful presentation to anyone who wants to know about Jesus. No challenges. And there will be no criticism of any religion, in any way.
Here are six questions answered in this article:
1. Jesus and Islam: Is the Bible God's Word? Or has it been changed, or corrupted over time?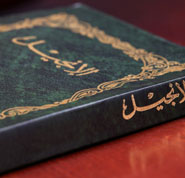 Just as introduction, here are a few statements found in the Bible: "Until heaven and earth disappear, not the smallest letter, not the least stroke of a pen will by any means disappear, from the Law until everything…
View original post 3,856 more words